The US has faced a number of mini fiscal cliffs over the past few years as pandemic relief programs were withdrawn. Another one is coming soon: the end of federal student-loan forgiveness.
So far, it's been hard to see significant impact at an economy-wide scale from the end of notable government assistance programs — including a ramped-up child tax credit that ended at the start of last year. In 2021, expanded and extended unemployment benefits concluded, again without major economic disruption.
There was even some analysis suggesting the end of strengthened jobless assistance might have helped bolster employment, by pushing some on the sidelines of the labor market back in.
But all of those roll-offs occurred during the powerful post-lockdown upswing in the economy, when consumers were splurging, in part with the stimulus checks that they'd piled up. 
This time may be different. As Claire Ballentine and Augusta Saraiva write here, the restart of federal student loan payments this fall happens against a backdrop of an economy that's expected to be slowing sharply after more than a year of aggressive Federal Reserve monetary tightening.
Almost 27 million borrowers, who have a total of $1.1 trillion in student loans in forbearance, will need to resume servicing them starting on Oct.1. Analysts at Wall Street banks project the restart will further crimp consumer spending.
The restart of payments — which average about $400 a month — will force many borrowers to make tough choices on how to allocate their spending. Analysts expect to see more households falling behind on credit card and auto loan payments in the final quarter of 2023.
"People have not had to prioritize student loan payments for the last three years," says Sarah Wolfe, a senior economist at Morgan Stanley. Now they're "going to have to rethink: 'OK, do I pay my phone bill first, or my credit card bill first, or my student loan bill, or my mortgage?'"
Service-sector inflation may keep core price gauges high for a while — Wednesday's US consumer price index will offer the latest reading — but one thing that should be coming steadily is relief on goods costs, according to HSBC Holding Plc.
"Having had global supply chains under the most pressure in history at the start of 2022, by the middle of 2023 they are now among the least pressured in history," HSBC economist James Pomeroy wrote in a note Monday.
Among the encouraging data: purchasing manager indexes showing that suppliers' delivery times passed the key 50 level for the first time on a global basis since 2009.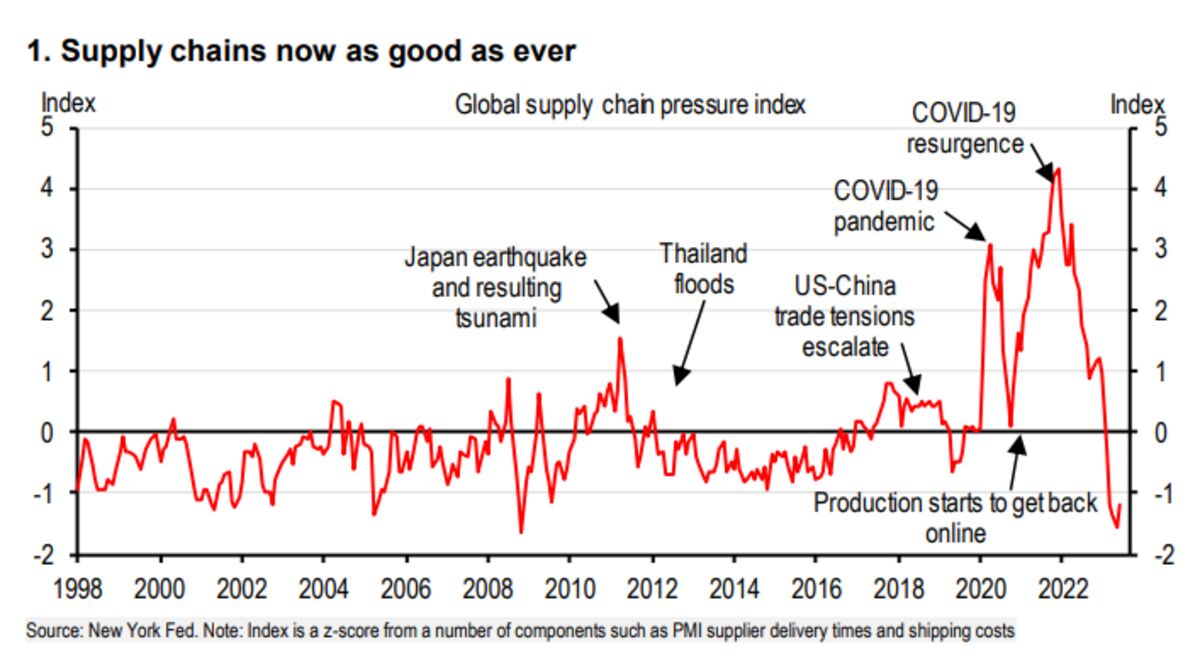 Bottom line: "Easing supply pressures should help pull down goods inflation in 2023 across the world," he wrote.