Eurozone interest rates have been hiked to a record high by the European Central Bank (ECB).
The bank raised its key rate for the 10th time in a row, to 4% from 3.75%, as it warned inflation was "expected to remain too high for too long".
The latest increase came after forecasts predicted inflation, which is the rate prices rise at, would be 5.6% on average in 2023.
But the ECB signalled that Thursday's hike could be the last for now.
"The governing council considers that the key ECB interest rates have reached levels that, maintained for a sufficiently long duration, will make a substantial contribution to the timely return of inflation to the target," the bank said.
It added that it expected inflation in the 20-nation bloc to fall to around 2.9% next year and 2.2% in 2025.
As in other parts of the world, the eurozone has been hit by rising food and energy prices that have squeezed household budgets.
Central banks have been increasing interest rates in an attempt to slow rising prices.
The theory behind increasing rates is that by making it more expensive for people to borrow money, they will then have less excess cash to spend, meaning households will buy fewer things and then price rises will ease. But it is a balancing act as raising rates too aggressively could cause a recession.
Interest rates in the UK are currently higher than in the eurozone at 5.25%, but UK inflation is also higher at 6.8%, and the Bank of England is expected to raise rates again next week.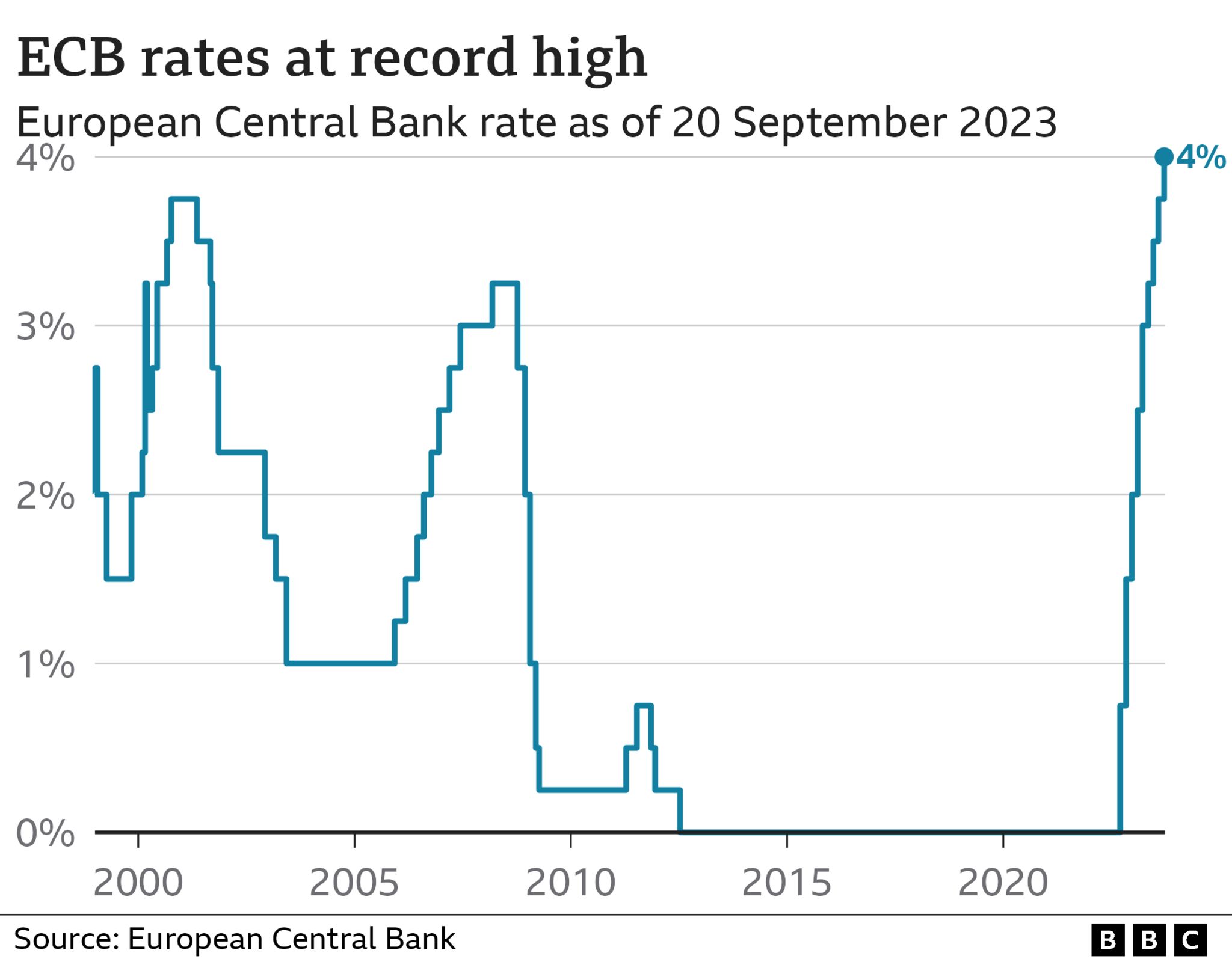 The ECB said it was determined to see inflation fall to its 2% target in a "timely manner".
However, policymakers admitted they had lowered their economic growth projections for the bloc "significantly" due to the impact of higher rates.
Economists at Pantheon Macroeconomics said the ECB's communication around its latest decision was a "clear indication" that rates would not rise further.
"We now see a high bar for anything other than a holding operation in the October and December meetings," they said.
"Looking further ahead, we still see a narrow window for rate cuts next year, though there is no way that you can get the ECB to even contemplate that scenario at this point."
ECB president Christine Lagarde did not rule out further rate rises, but said the "focus is going to move, going forwards, to the duration, but that is not to say – because we can't say that now – that we are at peak".
In June, revised figures showed the eurozone fell into recession last winter. Revised data from Germany – Europe's largest economy – contributed to the economic slump.
A recession is generally defined as when an economy shrinks for two three-month periods, or quarters, in a row. A contracting economy can be bad news for businesses and result in job losses.